readyVoucher for the Raspberry Pi SBC
Introduction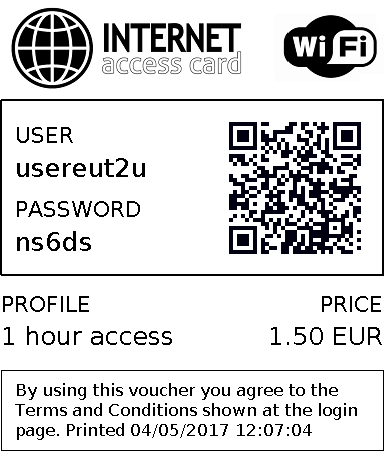 readyVoucher for rPi is a complete Internet access vending system designed for the popular single board computer Raspberry Pi. It is used to generate and print vouchers for hotspot access using Mikrotik routers.
This system is intended for manufacturers that want to create a fully functional Internet vending machine or an embedded voucher generator terminal without need of software development.
readyVoucher for rPi can be used in two different operation modes: Vending mode or Terminal mode. Using the Vending mode users can purchase Internet access using coins (coin acceptor is required). Terminal mode is used to easily create vouchers using the Raspberry Pi as a voucher creation terminal (operated without coins). In terminal mode, voucher creation can be protected by password.
In order to mount the system using Vending mode, some kind of electronic PCB is needed to route peripheral signals to the Raspberry Pi GPIO ports, as instructed in the readyVoucher user manual. We are developing a PCB for this purpose, and will be available soon.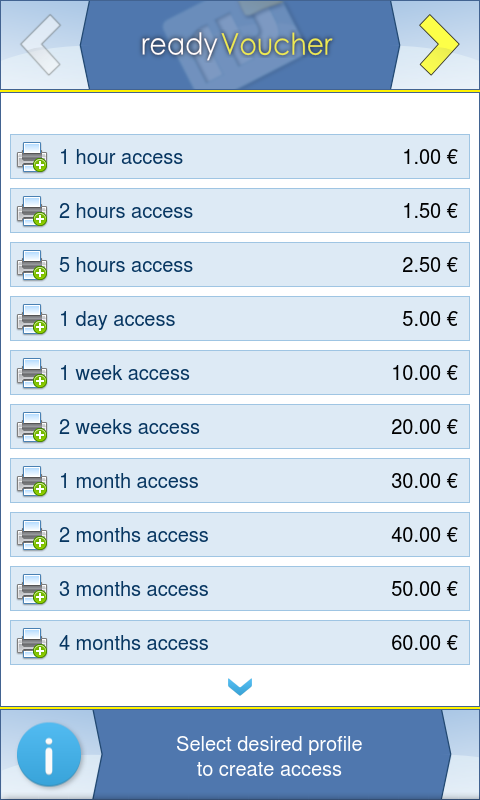 The system in Vending mode is designed to accept coins for Internet access payment. A color LCD is provided to ease system usage. This LCD shows available Internet access kinds with their price, available credit, and created access data, so the printer is needed only if you want to print a voucher for the customer.
readyVoucher also includes a set of features for remote maintenance and monitoring purposes. A web engine is provided to change system configuration, generate vouchers (locally or in the user LCD), modify available credit, view created voucher history and more. You can access this engine pointing to the IP address of your Raspberry with your preferred browser. By default, login username is pi and password is raspberry.
The system can send automatic emails in case of paper alarm or automatic sales reports (daily, weekly or monthly) in Excel format. 
Generated vouchers can be printed using a TTL thermal printer, or traslated to a bitmap file. readyVoucher is compatible with the TTL thermal printer sold by Adafruit or Spark fun (both are the same printer), or the OEM printer KP-628C from Cashino (printer with integrated cutter). Voucher design is fully configurable and can include texts, lines, barcodes and images.
You can select between two LCD types, according to your requirements regarding price and size. readyVoucher can work using a 3.2" SPI touchscreen (Waveshare) or the official 7" Raspberry Pi touch screen.
If your choice is a small LCD, we selected the Waveshare 3.2" SPI LCD 320x240. If preferred, there are a number of low cost clones for this LCD. You can find some in Aliexpress for about 10.00 EUR. In order to identify these clones, you must view "3.2inch Plug-and-Play LCD for Raspberry Pi v3.1" at the back side of the LCD PCB. Also it must include three push buttons marked as K1, K2 and K3. We selected this LCD because it has the optimal size and resolution to be controlled by SPI with a reasonable speed. Other SPI based LCDs (3.5 and above) have more resolution, but screen refresh is very slow and gives a bad user experience.
If you need a bigger LCD, you can use the Official 7" Raspberry Pi Touch Screen. This LCD offers a very high refresh rate (DSI interface) and a good viewing quality. This screen is highly recommended when using readyVoucher in Terminal mode.
Text on the LCD is fully configurable and you can translate text to your preferred language.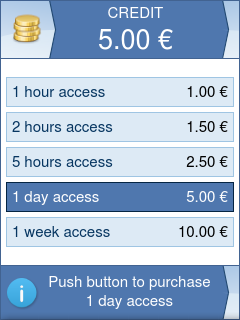 For the coin acceptor, our choice is the popular CH-92X (CH-923, CH-924, CH-925, CH-926, depending on the number of different coins accepted). You can purchase these acceptors through Aliexpress for 10.00 - 30.00 EUR.
Help and support
If you need information about the readyVoucher system and how to install a fully functional trial version, please download readyVoucher user manual. The currently available version is 1.3.
For support please contact info@ferrariehijos.com .
Software library
readyVoucher for rPi
is also available as a complete C library for creating users and print vouchers for hotspot access using mikrotik routers. You can view details
here
Licensing
readyVoucher for rPi license is based on Raspberry Pi hardware. You need a software license for each running Raspberry Pi. If you need to license your Raspberry Pi you will need your system key shown in file readyVoucher.log after a software run. In order to register your readyVoucher, once you have the license key, you have to copy the provided license in file readyVoucher.ini .
License price is only EUR 26.90 taxes included. You can purchase your license online through PayPal using the form shown below. Please include your email address and all required System Keys. Your license keys will be sent by email in 1-2 working days after payment.
We can offer attractive volume discounts for 10 licenses or more. Licenses will be sent to you as required. Please contact us for details.

Buy readyVoucher for rPi license through PayPal