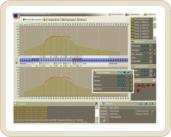 Ferrari e hijos, s.a. is a company dedicated to industrial automation, specialized in custom software and hardware design.
Our challenge with customers is clear: offer high quality solutions at low price. Our technical team is in constant evolution following the latest technology.
Consult us your automation problem.
easyLadder
easyLadder
easyLadder is a complete software PLC (programable logic controller) engine for the Raspberry Pi board. It was designed to ease the development of automation projects with the Raspberry Pi. More information.
WiDAC system
WiDAC wireless system for production data monitoring and personnel control.
With ranges up to 15 Km line-of-sight and high noise immunity for industrial environments.
This system provides complete monitoring of an industrial plant without any installation.
DL-804
Digital temperature recorder DL-804.
Offers 18 high precission universal thermocouple inputs, with independent channel configuration.
3" TFT color touchscreen. Dual alarm output. Internal memory (SD type) for data storage.
WiDAC EM
WiDAC Energy Meter
This system monitors and controls the consuption of electricity in distributed power networks, wirelessly up to a radius of 15 Km.
Typical applications are campings, irrigation networks and residential communities.
SiMIC
SiMIC devices
For those applications requiring uninterrupted and reliable use of conventional computers with or without user interface
The family of SiMIC devices can control a conventional ATX PC power supply ensuring the correct working of the process application, while providing the PC with necessary inputs and outputs for the process. All at low cost.
ULM-103
Ultrasonic level switch ULM-103
The ultrasonic level switch ULM-103 has been designed to replace float switches. Ranges from 400 mm to 4000 mm with an internal resolution less than 1 mm. Powers directly from 220 VAC.
Offers ambient temperature compensation, automatic discrimination of secondary echoes, two relay outputs fully configurable and display for the current level indication.
readyVoucher
readyVoucher for MikroTik routers
readyVoucher is a software designed to easily generate random user-manager users with the specified profile to use in mikrotik routers. More information.
econAir
Air economizer econAir
This device has been designed to save air in the blowing points located at conveying lines for tiles. More information
WECON
WECON Technology products
We want to present the wide range of programmable logic controllers (PLCs) and HMI terminals from WECON Technology, high quality and low cost devices, especially recommended for cost-sensitive applications. More information.